22 quizlet study sets on financial english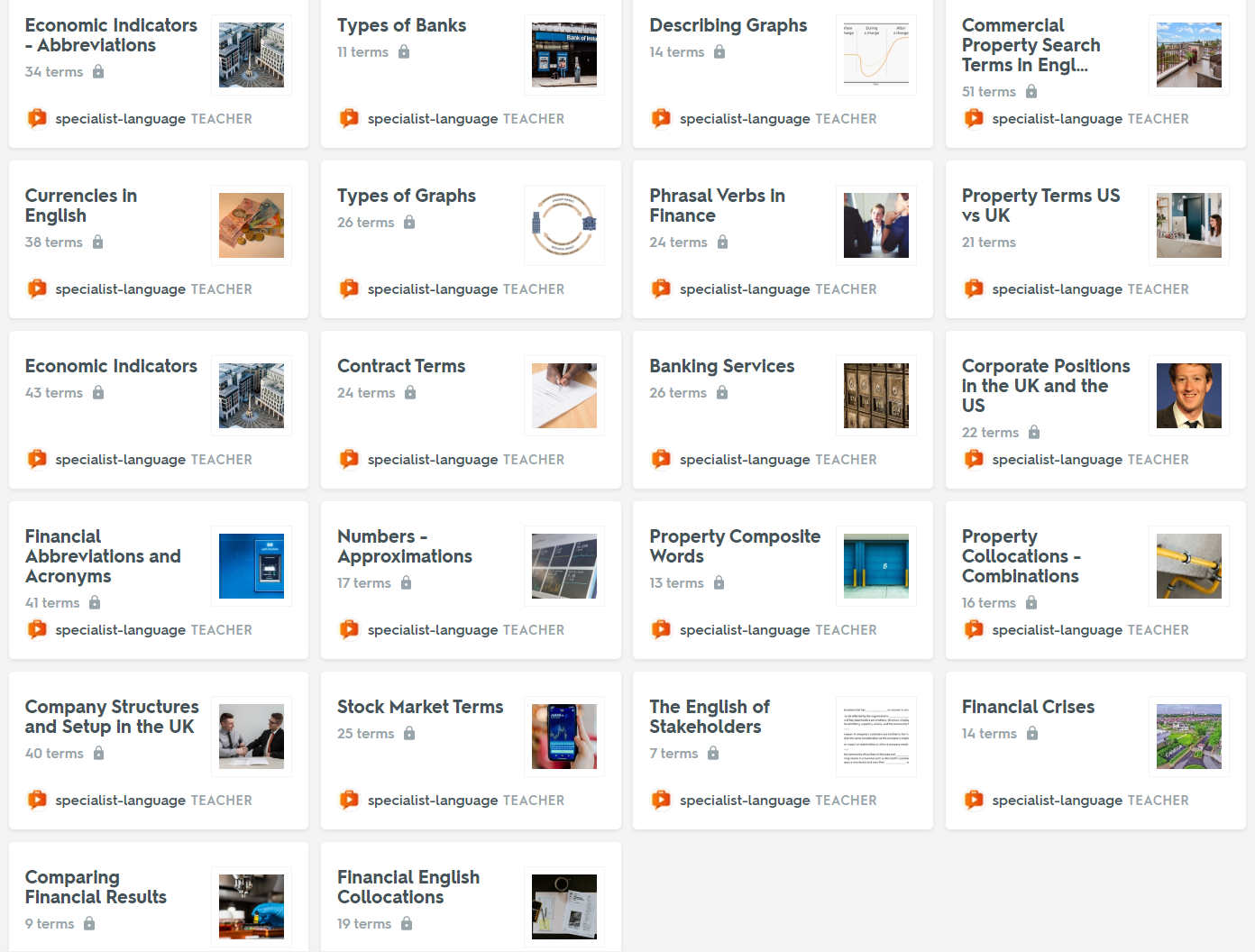 Improve your financial business English using this comprehensive study guide, which gives access to fun exercises, games and quizzes.
This Quizlet study guide contains 22 study sets on financial business English, which have over 600 terms to learn using flashcards on the subjects of banking, property, the stock market and more.

Our exclusive exercises have been designed by a financial professional who has 20 years experience in the insurance industry and a CertIBET business English training certificate from Trinity College, London.

Purchase this study guide now, and you will receive a document with the link to each study set plus the password required to start your fun learning.
Financial Business English
Types of Banks
Banking Services
Stock Market
Bonds and Shares
This study guide is for English language students focusing on the finance industry.
It is the first in a series and covers the basics of banking, investment and companies.
Advance your financial career by improving your English of the financial sector. Learn complex English vocabulary and sentence structures.
22 Quizlet Sets

Over 600 Finance terms

Matching Games

Multiple Choice Tests

Learning Tools
Subjects:
Banking Services
Commercial Property Search Terms
Company Structures and Setup
Comparing Financial Results
Contract Terms
Corporate Positions in the UK/US
Currencies in English
Describing Graphs
Economic Indicators
Economic Indicators – Abbreviations
Financial Abbrev. and Acronyms
Financial Crises
Financial English Collocations
Numbers – Approximations
Phrasal verbs in Finance
Property Collocations – Combinations
Property Composite Words
Property Terms differing between UK and USA
Stock Market Terms
The English of Stakeholders
Types of Banks
Types of Graphs
Financial English Quizlets
Created with